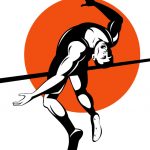 Sessantaseiesima puntata
Lo sport occupa una parte importante delle nostre vite. C'è chi lo pratica, chi partecipa agli eventi sportivi e chi lo guarda in televisione standosene comodamente sul divano. Sorprendentemente, anche le prestazioni sportive più spettacolari possono essere spiegate utilizzando concetti di fisica classica abbastanza semplici. Chi non ha mai ammirato i salti, i tuffi, o i colpi dei campioni di tennis, di calcio e di pallavolo? In questa puntata, spiegheremo alcuni gesti atletici e tecnici degli sport più popolari usando i concetti della fisica di base.
Autori: Cecilia Voena
Altre voci: Chiara Piselli
Regia: Edoardo Massaro
Musica: Roar of the Wild / A whale on it's side / Breathing Out / Only our footsteps in the sand / Sands of Windhoek di Mid-Air Machine, https://freemusicarchive.org/music/Ask%20Again
Podcast: Download (Duration: 17:53 — 40.9MB)
Subscribe: Apple Podcasts | Android | RSS | More
13/10/2020 Sulla piattaforma dell'Ente dedicata all'outreach sono disponibili le presentazioni e il laboratorio legati all'evento organizzato e curato dal Cnr lo scorso 30 settembre, nell'ambito dell'edizione 2020...
Continue reading
14/10/2020 Uno studio congiunto del Cnr e del Politecnico di Torino ha mostrato come determinare tramite tecniche di Machine Learning il grado di influenza dei partiti sui voti, utilizzando come caso di studio i voti al Senato sul...
Continue reading
14/10/2020 Ricercatori di Cnr-Spin in collaborazione con l'Università degli Studi di Genova e l'Istituto di Ricerca Scientifica e Industriale dell'Università di Osaka hanno presentato un prototipo d...
Continue reading
15/10/2020 Con il coordinamento di cinque progetti e la partnership di altri otto, tutti finanziati dal bando "Ricerca e Salute" della Regione Toscana, l'Istituto di fisiologia clinica del Cnr di Pisa (Cnr-Ifc), conferma il ...
Continue reading
16/10/2020 Con la pubblicazione del decreto direttoriale da parte del MUR, parte ufficialmente il progetto "E-crops - tecnologie per l'agricoltura digitale sostenibile", con Cnr capofila e coordinato dal Disba, Dipartimento ...
Continue reading
Consistency was one more component that stood out to McCrary and also why she selected OnDeck. During her hunt, she came across lenders who provided inconsistent information on their web site and in person, whichmade dealing withthem difficult. Openness and also consistency are vital premiums in a really good lender, McCrary mentioned. It is actually likewise an essential part of the site method, because trusting your lender eliminates to and fro and confusion.
What is the most convenient company loan to obtain?
The response to this concern relies on the amount of you need to have as well as just how you intend to make use of the funds. There are actually several lending institutions that have marginal credentials criteria for annual income, attend organization and the private credit rating of your business proprietor. This is actually practical for startups without an economic background that can certainly not satisfy the need creditors have for even more reputable institutions. Be sure to read our testimonials to observe whichloan providers have less-onerous qualifications requirements.
Do start-up company finances call for personal assurances?
If the loan you are actually looking at is unsecured (no security is actually called for), usually, you are actually… Continue reading →
Dal 01/12/2020 ore 14.30 al 04/12/2020 ore 15.00 Il Consilgio nazionale delle ricerche, in qualità di partner della rete Enterprise Europe Network (EEN), coordinatore del Consorzio ELSE (Lazio e Sardegna), co-organizza l&rs...
Continue reading
Il 19/10/2020 ore 18.00 - 19.30 Nuovo esperimento di scienza partecipata del Cnr #Scienzasulbalcone per misurare, grazie a un'applicazione per smartphone, il rumore che dall'esterno entra nelle nostre case. Luned&igrav...
Continue reading