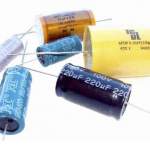 Cinquantaquattresima puntata
Le automobili elettriche, quando frenano, non dissipano la loro energia in calore, ma la recuperano utilizzando dei condensatori. E ancora i condensatori trovano impieghi nei campi più diversi, dai defibrillatori alle memorie degli smartphone e agli accelerometri usati negli airbag. Ma cosa sono questi oggetti e come funzionano? Lo chiediamo a Giovanni Vittorio Pallottino già docente presso il Dipartimento di Fisica dell'università Sapienza di Roma.
Autore:
Giovanni Vittorio Pallottino
Altre voci:
Regia:
Musica di Kevin MacLeod, songs:
"Too Cool"
"ZigZag"
"Ave Marimba"
"Master Disorder"
"Lewis and Dekalb"
Podcast: Download (Duration: 20:12 — 23.3MB)
Identifier: H2020-JTI-FCH-2018-1Pillar: Societal ChallengesPlanned Opening Date: Deadline: Tue, 24 Apr 2018 17:00:00 (Brussels local time)
Continue reading
Il 13/02/2018Istituto per lo studio degli ecosistemi, Ise-Cnr Largo Tonolli 50, 28922 Verbania Pallanza Seminario di Piermauro Giachino (Regione Piemonte) Popillia japonica Newman, 1941 (Coleoptera: Scarabaeidae), specie considerata fortemente inva...
Continue reading
Il 19/01/2018Sala Conferenze CNR, via P. Castellino, 111 - 80131 Napoli Dr Davide Graziani, from Drug Discovery, Recordati S.p.A. in Milano, will give a seminar on methods and compounds for the treatment and/or prevention of neurological and psychiat...
Continue reading
Il 25/01/2018Sala Conferenze CNR, Via P. castellino, 111 - 80131 Napoli Prof. Giovanni Volpe, Associate Senior Lecturer from Physics Department, Gothenburg University, Sweden,will give a seminar in the field of photonic force sensing and microscopy. ...
Continue reading
Il 24/01/2018Aula Bisogno, Consiglio nazionale delle ricerche, Piazzale Aldo Moro 7, Roma Il Corpus Inscriptionum Etruscarum, la raccolta completa di tutte le iscrizioni etrusche, è un'opera monumentale iniziata nel 1893; la sua pubblicazione ...
Continue reading