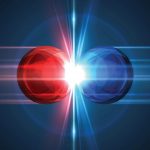 Settantaseiesima puntata
Che cos'è un acceleratore di particelle? A che cosa serve? Come funziona? Ve lo spieghiamo in questa puntata dedicata ad uno degli strumenti più importanti della fisica moderna.





Autori: Manuela Boscolo.
Altre voci: Chiara Piselli
Regia: Edoardo Massaro
Musica: Airy Day in Colombo / The meditation / Sunny Day in Bali / Sunshine in Bali di Ashot Danyelian (https://www.jamendo.com/artist/522042/ashot_danielyan_composer)
Podcast: Download (Duration: 31:41 — 43.5MB)
Subscribe: Apple Podcasts | Android | RSS | More
At the start of the plenary session on the first day of the IAEA's 65th General Conference, Sadiq M. Marafi of Kuwait was elected by acclamation as President of the Conference.
Continue reading
Climate change and food security are among the biggest challenges facing the global community.
Continue reading
The Republic of Zimbabwe pledged its commitment to nuclear safety and security by depositing legal instruments and therefore becoming a party to various international treaties under the auspices of the IAEA.
Continue reading
The IAEA today marked 15 years of the IAEA Integrated Nuclear Security Support Plan (INSSP), which lays the groundwork for nuclear security support by the organization.
Continue reading
Il lago Maharloo, un lago salato stagionale in Iran, è mostrato in questa immagine acquisita dalla missione Copernicus Sentinel-2.
Continue reading
Steering the world to net zero emissions to meet global climate goals is no simple task. It will require concrete energy policies as well as the next generation of scientists, engineers and policy makers to lead them to the finish line.
Continue reading
The IAEA's General Conference, which began this morning in Vienna, elected Kuwait's Ambassador, H.E. Sadiq M. Marafi, as President of the 65th regular session of the Conference.
Continue reading
Through the beneficial applications of nuclear science and technology many solutions to pressing problems can be found, IAEA Director General Rafael Mariano Grossi told delegates at the opening of the IAEA's 65th annual General Conference today.
Continue reading