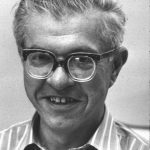 Cinquantanovesima puntata
L'Universo è nato dal Big Bang, come sanno tutti, ma non tutti sanno che per decenni fu seriamente presa in considerazione la "Teoria dello Stato Stazionario" di Fred Hoyle, che descriveva un Universo che si espande restando sempre uguale a sé stesso. Fu sempre Fred Hoyle a spiegare come si sono formati gli elementi della tavola periodica e a proporre la teoria della nascita della vita al di fuori della Terra. Ascoltiamo questa storia dalle sue parole.
Autori:
Altre voci:
Giovanna Pacini
Chiara Piselli
Podcast: Download (Duration: 22:51 — 41.8MB)
Subscribe: Apple Podcasts | Android | RSS | More
10 more words that mean something different to scientists. Word fans, rejoice! Symmetry is back with another list of 10 common words that take on a new meaning when spoken by scientists. Check out the first and second lists, then take...
Continue reading
Selection on the basis of qualifications and possible interview for the awarding of a postdoctoral
Continue reading